Cable management for food processing, packaging & filling machinery
The range of food and beverages on the consumer market has never been bigger; food marketing has never been more complex and diverse. This challenges manufacturers of food & beverage processing and packaging equipment to design more and more efficient, flexible and productive machinery. At the same time, due to international competition, engineers are constantly striving to optimise costs and processes. icotek offers efficient and cost-effective solutions in the field of cable management for food technology.

icotek's » split cable entry systems and » cable glands for food technology enable a quick, safe and cost-effective way to feed several preassembled control, signal or bus cables through enclosure, panel or machine walls without voiding the warranty of the cables. icotek split cable entry components also seal the entry points with up to IP66/IP68 / UL type 4X rated protection and provide strain relief according to EN 62444.
Cables without assembled connectors as well as pneumatic and hydraulic hoses can be routed through » membrane based multi-cable entry plates which provide sealing rates of up to IP66/IP68 and UL type 4X. The hygienic design of our » FDA compliant cable entry plates prevents dirt deposits, which is particularly important in food technology.
Our product materials are resistant to industrial detergents by ECOLAB and other manufacturers.
Many of our cable entry components are suitable for standard cut-outs of heavy 24-, 16- and 10-pin industrial connectors (e.g. by Harting, Molex...) or fit on round metric cut-outs from M16 to M85.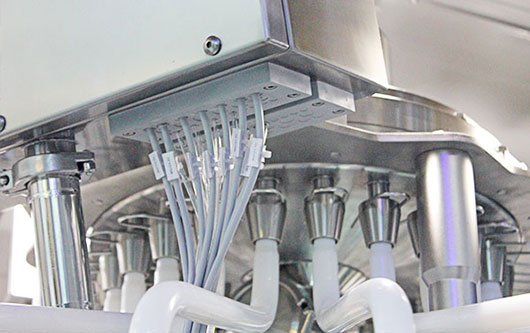 » KEL-DPU 24 cable entry plate, IP66/IP68: routing of electrical cables and pneumatic hoses into a stainless steel control enclosure of a carousel filling machine.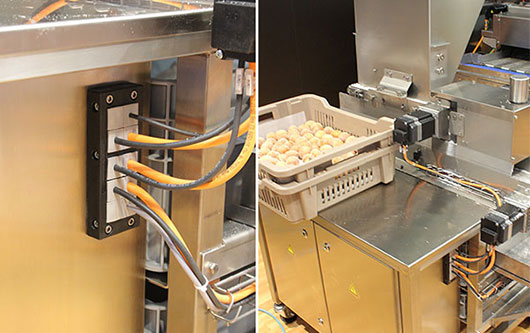 » KEL-ER 24 cable entry frame, IP66: routing of pre-connectorised cables with various diameters (up to 16 mm) into a frying/baking machine.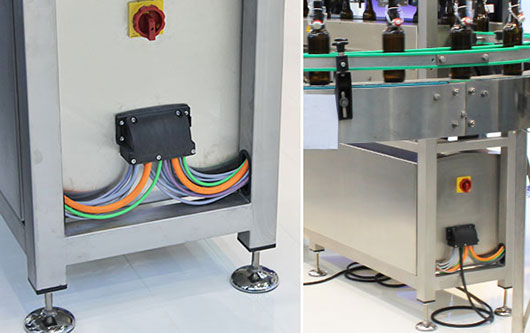 » KEL-FG-A 90° cable entry flange enclosure, IP54: routing of a large number of pre-connectorised cables with various diameters (up to 17 mm) into a swing top bottle closing machine.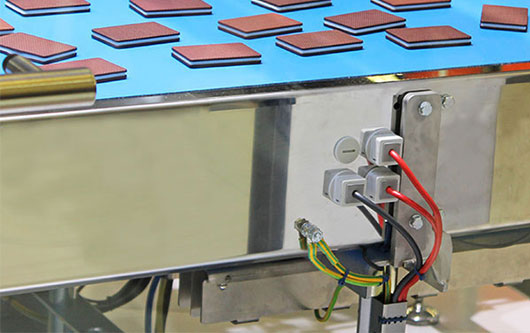 » KVT split cable gland, IP54: routing of several pre-connectorised cables into the conveyor of a packaging machine for sweets.
For applications with lower ingress protection requirements icotek offers » brush plates and brush strips for round and rectangular cut-outs. Custom length brush strips can be used for cable routing as well as cleaning of conveyor belts or the applying of labels.
For a secure and structured cable management and strain relief of cables or pneumatic hoses icotek offers several » strain relief plates for various mounting methods.
EMI cable shield earthing is very important. The area where the cable shield is connected to the enclosure earth is a critical point. It is very important that the connection has a low resistance (EMC). icotek SKL » cable shield clamps are a low cost but highly effective and universal solution.
Shielded electrical cables can be earthed directly at the point of entry utilising our cable entry components in combination with the » EMC cable assembly KEL-EMC-PF which has a direct connection to the enclosure, panel or machine wall. A space-saving and cost-effective solution compared to conventional EMC cable glands.
SKL clamps can be also installed on mounting rails, the panel wall itself or directly on frequency converters, drives or bus modules, such as our » STFZ|SKL series for simply plugging into I/O modules by Siemens, Beckhoff, Bosch Rexroth, Pilz, TURCK, WAGO, Rockwell Automation...
In comparison to conventional EMC brackets an up to 50% higher contact area can be achieved when using the SKL series.

Fields of application for icotek cable management products in food processing, packaging & filling machinery are e.g.:
Supply of pre-connectorised control, signal or bus cables through wall enclosures and control panels
Routing of pneumatic hoses into valve terminals which are integrated in wall enclosures and control panels
Routing of control cables into gripping systems and vacuum end of arm solutions
Cable routing and strain relief within drag chains
Routing of cables into control boxes of e.g. conveyors

In general, icotek products have a high quality and outstanding efficiency. All icotek products are quick and easy to install and to be assembled with cables, during the initial installation and in maintenance or retrofitting cases.
The icotek cable entry components comply with important approvals and standards such as IP and UL rated protection, UL recognized, UV resistance according to ISO 4892-2A, Hygienic Design acc. to EHEDG, FDA, 1935/2004/EG and (EU) 10/2011, which makes icotek a strong and reliable partner for food tech equipment manufacturers.
Featured products for the food industry: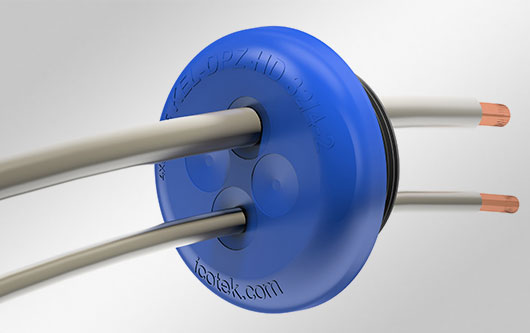 Round gland plate, hygienic design, IP66/IP68, FDA compliant
Round hygienic gland plate with certified sealing IP66/IP68. Metric threads M32-M63.
» KEL-DPZ-HD round
Membrane plugs for gland plates, FDA compliant
Plugs for sealing already pierced membranes of gland plates. Also available as detectable version (type ST-B-HDD).
» ST-B-HD | ST-B-HDD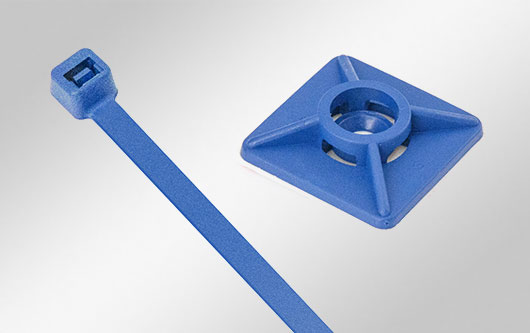 Detectable cable ties & holders
Detectable cable ties and holders for cable ties particularly suitable for pharmaceutical applications and for the food industry.
» KB-HDD | KBH-HDD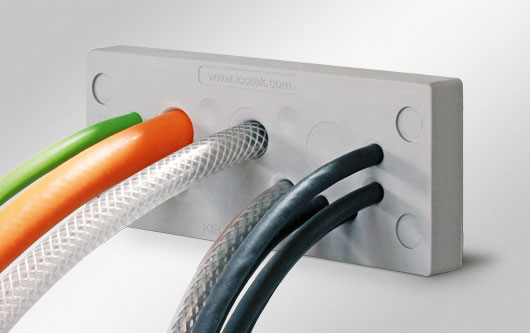 Heavy duty cable entry plate, IP66/IP68 / UL Type 12/4X*
Heavy duty cable entry plate with high strain relief and certified protection up to IP68 / UL Type 4X*.
» KEL-DPU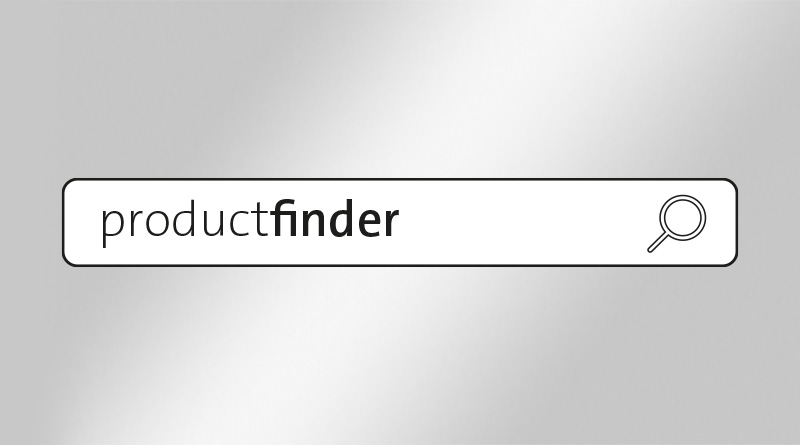 Search and filter products with the icotek ProductFinder!
Find the perfect product for your application. Try it now!

FInd your product!
Do you have special requirements?
If our standard solutions do not fit your requirements, our engineers will develop individual concepts for you. Please feel free to contact us. We will submit an individual offer customised to your special requirements.
E-Mail pm@icotek.com
Tel. +49 (0) 7175 923 800