Products

»

Strain relief & cable management
Strain relief acc. to EN 62444
for a secure cable management
By using universal icotek strain relief plates with cord grip function the user can quickly assemble, organise and strain relieve cables according to EN 62444. Find out more »
Solutions for your cable management
Whenever cables, wires, hoses or conduits with diameters up to 20 mm have to be fixed, routed or strain relieved the icotek strain relief plates with cord grip function are used. With just one component you can route and strain relieve up to 12 of these lines, in static or dynamic applications.
The undercut on the comb shaped profile of the strain relief plate provides a secure hold of cables with diameters from 5 to 20 mm when using regular cable ties. Compared to conventional metal or plastic cable clamps and cord grips, the icotek strain relief plates are a much more flexible and cost-effective solution.
To find out more, watch the assembly video.
For applications in high vibration environments or with constant dynamic stress on the cables the strain relief plates ZL-AB (with aluminium bushings) and ZL-MS (with brass bushings) are used. These bushings provide a better fit of the screwed strain relief plates.
In combination with » ZL|SB-EMC shielding plates you unite cable management, strain relief and EMI shielding in one single component.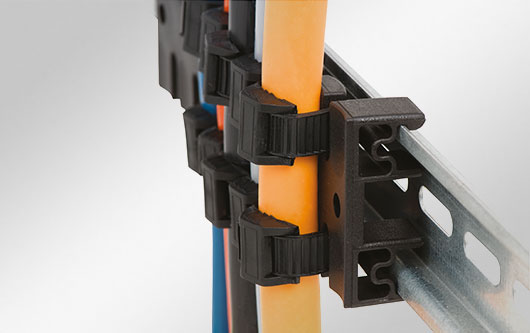 Approvals and standards like flame class UL94-V0, DNV-GL, RINA, ECOLAB detergent resistance or the European railway standard EN 45545-2 for fire safety enable use of strain relief plates in many application areas. Certificates or declarations of conformity can be requested directly from us.