EMC Cable Entry Systems
Solutions for Conducted and Field-Bound Disturbances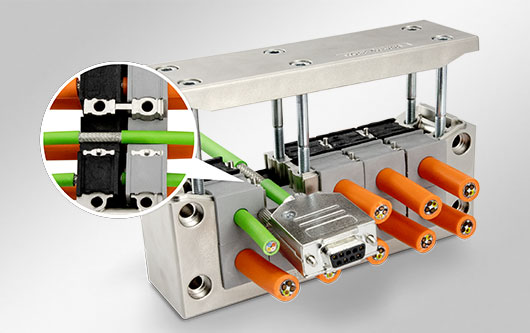 In case of conducted as well as field bound EMI disturbances, our split cable entry system EMC-KEL-DS and our split cable gland EMC-KVT-DS offer an effective way to divert and block those disturbances and provides an alternative to conventional EMC cable glands — especially when routing cables with connectors. Find out more »
Request your free product sample
Info Guide – Everything You Need to Know About EMC Solutions
Today's industrial process technology is far more sensitive to electromagnetic disturbances creating the need for proper electromagnetic compatibility.
But what does that mean?
This video explains clearly why EMC is so important.
The industrial process technology demands increasing security against disturbances for electrical MCR facilities (measure, control, regulate). Special emphasis is being placed on the derivation of electromagnetic interference. A distinction is made between conductive and field-bound disturbances.
A large contact area of the cable shield for the derivation of the interference to a conductive enclosure wall combined with the shielding of the enclosure interior, generally offers a good solution for both types of interference.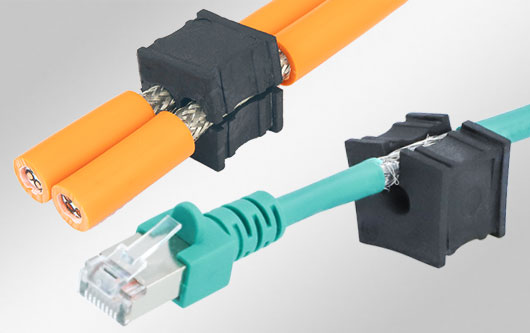 Easy Assembly of the EMC Cable Entry Frames
The EMC cable entry frames are mounted by screwing them on. The cable entry frames are available in various sizes and are based on standard cut-outs of multipole heavy industrial connectors.
Convince yourself of the simple and quick assembly of the divisible EMC cable entry frames with our assembly video.
NEW! The Split EMC Cable Gland
The split EMC cable gland EMC-KVT-DS is based on the standard icotek KVT product. However, the EMC-KVT-DS has been metallized (galvanize coated) to create a conductive surface.
The opened, conductive EMC cable gland is fitted with two grommets, an EMC-KT grommet for contacting the cable shield and a normal KT grommet for sealing according to IP55 and for strain relief of the cable. Grounding is achieved with the EMC locknut.
Test Results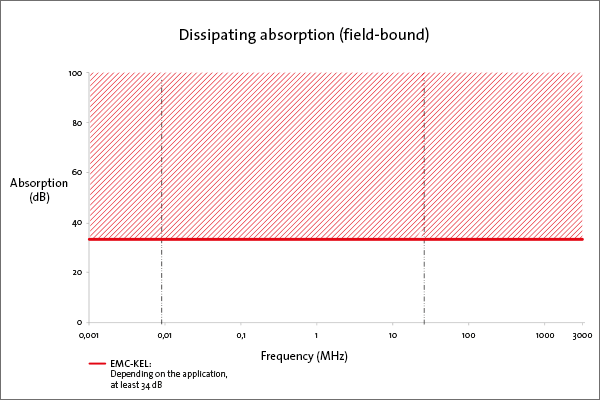 Field-Bound Disturbances
Regarding the field-bound disturbances and depending on the application, in the relevant frequency ranges up to 3 GHz constant measurements of at least 34 dB have been achieved. Below the attenuation range, the curve falls only at extreme high frequencies above 3 GHz.