EMC Cable Clamps
EMI Shielding & Grounding Components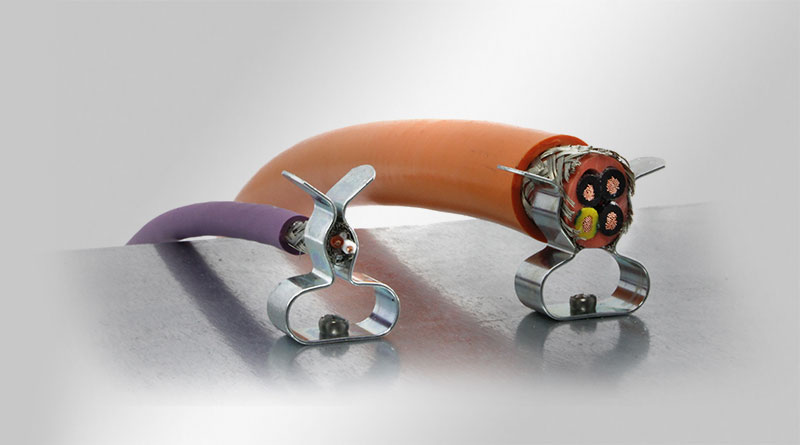 For process measurement and control equipment an increasingly higher level of protection against failure is required. EMI shielding and grounding is very important. The area where the cable shield is connected to the cabinet ground is a critical point. It is very important that the connection has a low resistance. All icotek EMC cable clamps for shielding cable diameters from 1.5 to 75 mm have been tested utilising various frequency ranges and in all tests there was minimal leakage resistance. Find out more »
Request your free product sample
Info Guide – Everything You Need to Know About EMC Solutions
Today's industrial process technology is far more sensitive to electromagnetic disturbances creating the need for proper electromagnetic compatibility.
But what does that mean?
This video explains
clearly
why EMC is so important.
The EMC cable clamps offer a large contact area to the cable shield (see figure A). In comparison to conventional shielding brackets an up to 50% higher contact area can be achieved when using the SKL line (see figure B). The specified clamping range can be exceeded up to 10%.
SKL shield clamps are available in several mounting types like » screw type mounting on metal plates or mounting them on » DIN rails or » bus bars. Properly sized and used in conjunction with cable ties, many EMC cable shielding products provide strain relief in accordance with EN 62444.
If you need to install a larger amount of cables and they have to be shielded in a relatively small space, icotek offers » EMC clamp assemblies RLF and RLFZ, an efficient EMI shielding solution for up to 12 cables.
You can configure your own customized clamp assembly for your application with our » EMC Configurator. Individually choose your shield clamp sizes and positions according to your cable diameters.
As an alternative to our EMI shielding clamps we also offer classic spring loaded shield brackets in various sizes and mounting types.
» EMC cable collectors for cable entry frames/ » cable glands as well as » ground straps round up our wide range of EMC cable shielding products.